Create Holiday Magic with a Remodel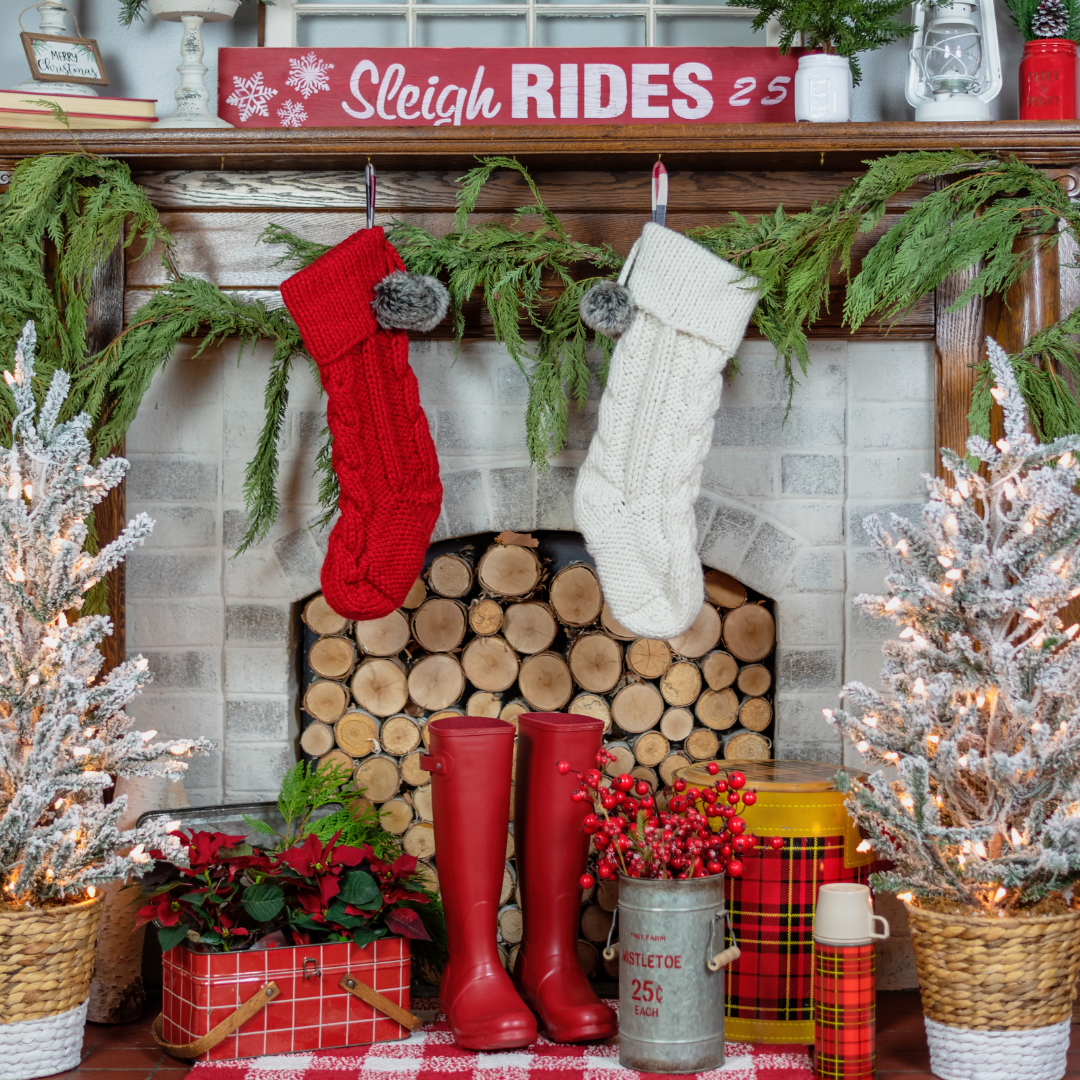 There is nothing quite like being at home for the holidays. There are songs written about it, stories centered on the theme, and a general wistfulness for all things home the moment holiday happenings start to appear. As magical as the snow globe scenery and classic carols make it seem, being home for the holidays isn't always a vision of dancing sugar plums. Hosting in particular can feel overwhelming - clouding what should be a relaxed and happy time with frantic anxiety. 
Rather than accepting the chaos and hoping it gets better next year (without any plans to make a change) - why not take hold of your Christmas destiny and create the spaces at home that work for you and your guests…not just for the holiday but for every single day of the year? 
With over 25 years of serving our region as remodeling experts, we have truly seen the gamut of ill-functioning homes. From the extremes of water damage, mold toxicity, and pest infestations to the less dramatic but equally problematic issues of boxed-in kitchens, dated finishes, and not enough space - we understand how a home can be a hindrance for the holidays and beyond.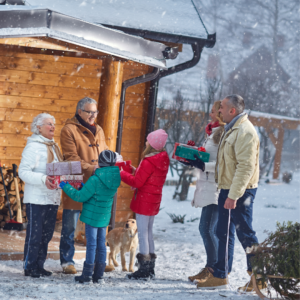 That's why our founding mission is to bring families together via their homes - crafting spaces that are a true reflection of the people living inside them. Spaces that function for whatever it is your day to day life looks like, and present the personality and design that feels right. Holiday hosting may not be a daily, weekly, or even monthly occurrence - but there is nothing like an onslaught of people expecting to be fed, housed, and entertained to really bring out the issues in your living spaces. So let this be the last holiday you spend in a home that simply doesn't work for you and your family! 
While every home remodel is different and presents unique challenges and outcomes - there is a set list of things that never fail to improve life at home. We want to share them with you as you are contemplating remodeling your spaces, so you can be sure to get the most out of your project and love your home no matter the season.
First up is making the kitchen the heart of your home. Even if you are not a professional chef or don't possess a passion for baking - the kitchen is always a gathering place. The snacking happens here, the coffee is brewed here, the chats happen while meals are being prepared (whether they're from scratch or being reheated in the microwave). Being together in the kitchen is synonymous with gathering at home - so make sure your kitchen space can handle the congregating comfortably!
You don't need a massive kitchen footprint to comfortably host your family and friends inside of it - you just need a flow that makes sense and options for taking a seat. Incorporating an island is a fantastic way to create a natural walkway and also the perfect opportunity to add seating. You can use the island to define The Work Triangle - which is a system for creating a clear path from food prep to clean up to food storage. And you're giving yourself extra surface area for everything from charcuterie boards to bowls of cereal. 
If you have a larger square footage in the kitchen, consider adding a breakfast nook or dining table right next to the kitchen itself. You can even have that table and its seating butt up to the island seating, creating little areas for people to gather and visit, or eat, or help with holiday meal prep.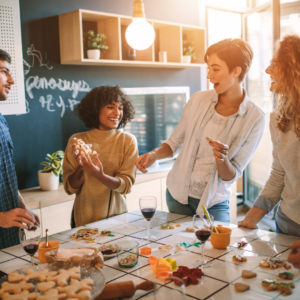 Speaking of gathering areas, you want to create seating that makes sense in your living spaces. This is where interior design comes into play in a big way when it comes to remodeling. Transforming a space is about more than choosing a backsplash or finding the perfect color for the walls. It's about picking the perfect pieces to fill that transformed space that allow you to make the most of it. And positioning your sofas, loveseats, accent chairs, etc. is key to the cozy holiday gatherings of your dreams.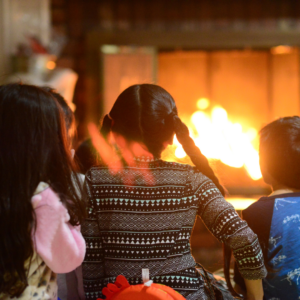 You want to create areas that make you and your guests want to stay put, whether it's snuggled around a fireplace or situated in a chair that perfectly allows for conversation with whoever is seated in the couch angled next to you just-so. 
Don't just choose your seating elements because of how they look, choose them for how they'll make the space function. Think of it as staging spaces within the room, and imagine how you want yourself, your family, and your guests to utilize them. If you're a big football family, how does the seating allow for TV views and dissecting the last play over commercials? If you love gaming - what surfaces do you have that allow everyone to comfortably access their Scrabble tiles or easily lay their winning Gin Rummy hand? You can't stop the transformation at the shell, make sure it extends into the things you put inside your brand new spaces.
When considering the touchpoints you and your guests will interact with most in your spaces - you cannot forget about the bathrooms. And if your yellowed sink, gunky grout, or warped vanity doors makes you want to save the space for the Grinch alone, make a bathroom remodel a priority. You can create massive change in the small footprints provided by a bathroom, and infuse tons of personality into these spaces.
 If it is a half bath, you can add a pop of color to the vanity cabinet, pattern via a wallpaper feature, and unique elements via lighting and plumbing fixtures. If you're working with a full bath, make your guests feel like they are on a spa retreat with a custom tile shower - and give yourself the spa treatment when recovering from the hectic holiday season! 
Key things to consider with your bathrooms include ease of cleaning, design that's cohesive with the rest of your home, and plenty of storage. You want surfaces that can come back to life with a quick wipe-down, a feeling like you're walking into an extension of your home vs. a random room, and places to tuck away extra towels and toiletries both for back-ups and for guests.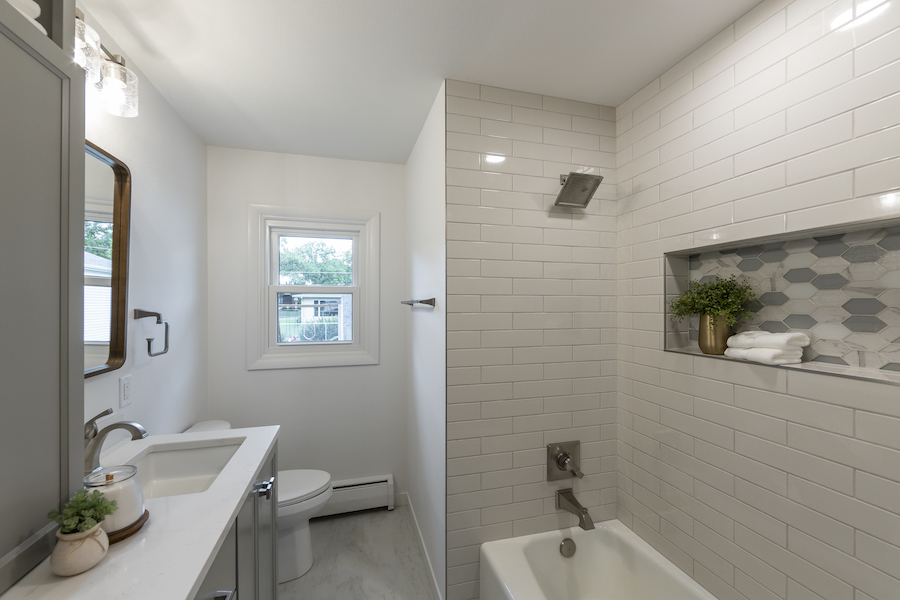 And the need for storage doesn't end in the bathroom! Give yourself the gift of storage when remodeling - with organizational solutions in everything from your kitchen cabinets to your closets. Imagine the countertop space you could reclaim with a custom built-in for your stand mixer. Dream about the seamless transition from front door to living space with cubbies for shoes built into your entry closet. And think about how simple it'd be to tidy up the bathroom after getting ready if you had storage for your hair tools and skincare built right into the vanity.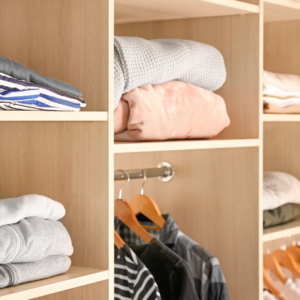 Storage and Organization builds so much confidence when it comes to contemplating the onslaught of guests for the holidays. Knowing you have the solutions in place to handle the physical chaos of suitcases, shoes, coats, hotdish containers, and more will help calm your mind to deal with navigating the role of host with ease. You deserve to enjoy your holiday - not just survive it - and by setting yourself up with tools to support your hosting duties built right into your home, you are creating the environment you need to love holiday hosting. 
And even more importantly, quality storage creates ease in your day to day life. We love this tool not just for guests but for making life in general more manageable. Those cubbies you used for your guest's overnight bags? Use them for the kids' backpacks! The extra space you built into your bathroom vanity for guest towels? Use them for sleepover parties! Creating a cabinetry layout that accommodates a bigger fridge? Use it to meal prep and store ready to make meals for the week to check that off your daily to-do list!
While this is certainly not an all-encompassing list of everything you can do in your home to make it holiday host optimized, these four things have proven time and time again to be tried and true solutions to making both holiday hosting a breeze and allowing you to live in those spaces year round with ease. Because while this blog is holiday-centric, we want to create remodeling solutions that allow you to love your home every single day. And the items on this list are just as important to consider for a random day in March as they are for the night before Christmas. Because you want your family to feel comfortable coming together in the kitchen. And you need comfy places to sit and decompress with your loved ones at the end of the day. You'll want to treat yourself to a mini trip to the spa via a beautiful bathroom. And you simply can't go wrong with more storage solutions. 
We hope you can take this list and check it twice for the top 4 things to consider when remodeling your home to create magic for the holidays (and every day!) If you are ready to make your house work for you every season, let us hold your hand through the process of creating the spaces you are thrilled to call home. We wish you and your loved ones the absolute best this holiday season!