Top 5 Home Remodel Projects To Complete This Spring
Springtime signifies newness – a refreshing start to the warmer seasons and brighter weather. It is often a time for spring cleaning at home, and this focus on the different nooks and crannies throughout the house can sometimes highlight fixes that need to be made, or stylistic changes you've been envisioning. Why not take this opportunity to work with a general contractor and create the home remodel of your dreams? Start fresh this spring with updates in your home, and make those updates ones that will last for many seasons to come with a quality contracting team. Check out our previous post that details what to look for in a general contractor here. And read all about the top five spring remodel projects to tackle with that contractor below!
Whether you are longing for a master bathroom to create the ultimate master bedroom retreat, looking for a cozy screened in porch to make the most of warm weather evenings, or simply need more space – now is the time to take on that addition! With temps finally rising, the prospect of tearing down an exterior wall to make room for something new is actually feasible, and you won't lose money on wasted utilities trying to keep the rest of your house warm while work is done in an unfinished addition. Another benefit – you can adjust your landscaping plans around a new floorplan footprint and not waste time bringing plants back to life in spaces where the expansion's foundation would sit.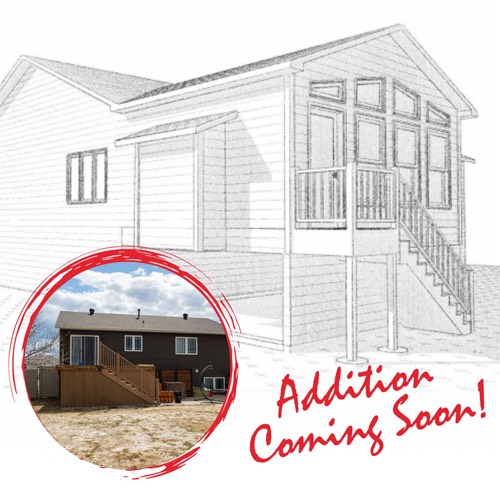 Making such a major change in your home can seem daunting, and there are plenty of horror stories detailing never ending remodels and projects that have no set timeframe. The best way to avoid these remodel nightmares? Work with a general contractor who has a scheduling system! There is no reason that a contractor should not be able to supply you with a detailed plan from day one. If you are able to see what the schedule is, you can be involved in the process and not feel helplessly out of control wondering when and if people are going to show up to work on your remodel. For something as significant as an addition – this is especially important, and will allow you to trust the process and reduce the stress!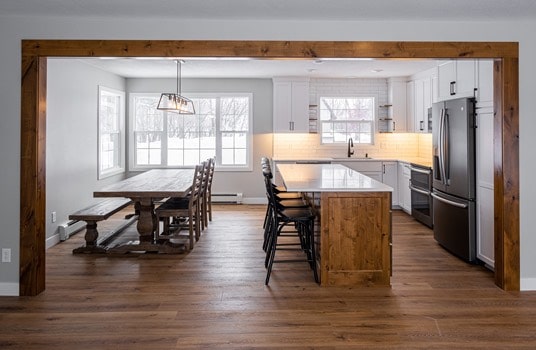 2. Make Your Kitchen The Heart Of The Home!
Create a gathering spot in your kitchen by making it a place you and your family want to be in. Whether you are dealing with oak overload, dated fixtures, or a layout that doesn't function well – work together with an experienced general contractor to make changes that both serve your family and increase your home's value. When seeking out a general contractor, find someone who understands your design direction, can provide insight into the housing market, and who has a team that will perform each job with the highest quality standards. Kitchens often require the most moving parts of any remodeled room in the house – with new flooring, refinished cabinets, new counter tops and back splashes, updated appliances, etc. It is not enough to "click" with the general contractor…make sure to ask questions about the people who will be filling all of the additional roles as well.
We mention finding a contractor who understand the housing market for couple of key reasons. The first is more obvious – if you are making updates with plans to sell in the near future. Then, working with a general contractor who has contacts within the real estate field will prove to be of enormous benefit to you. It is still absolutely possible to create a space that feels like "you" while simultaneously checking boxes of what homeowners are looking for in your real estate climate. When your contractor can help guide these decisions, it is one less thing for you to consider or have to seek out on your own. If you are not looking to sell, and are making changes in your home for you and your family alone, it is still beneficial to you to work with a company that can provide insight into the real estate and lending markets. Because increasing the value of your home can only benefit you, and should you decide to refinance, you could stand to better your financial situation by making informed remodel choices. It's a remodel win-win! Want to learn more about remodel benefits from both the real estate and lending perspectives? Check out our education page here!
Have you had it with your popcorn ceilings? Was your drywall installed improperly and you have been staring at cracks or seams in your walls? Spring is a fantastic time to have these projects taken care of, as you can use the weather to your advantage and have windows open to help the compounds used to install new drywall settle quickly. Another component of this type of update is ensuring that your insulation is working as it should. With the winter that we just experienced – with seemingly never-ending freezing temps – we all had the chance to test out our insulation's functionality! If you are needing new insulation put in, or even need repairs made due to snow and ice loads on the roof, a quality general contractor can facilitate this entire process for you. Should you need to have repairs completed that extend beyond the realm of cosmetic updates, make sure the general contractor you hire is experienced in working with insurance companies to get the job done correctly and by-the-book.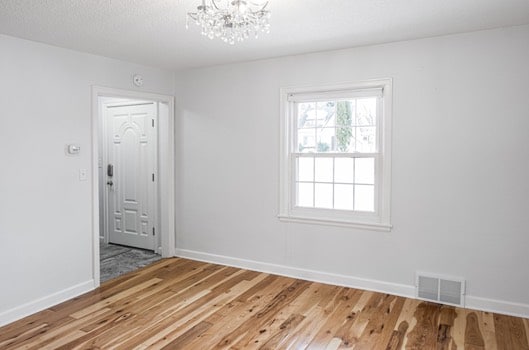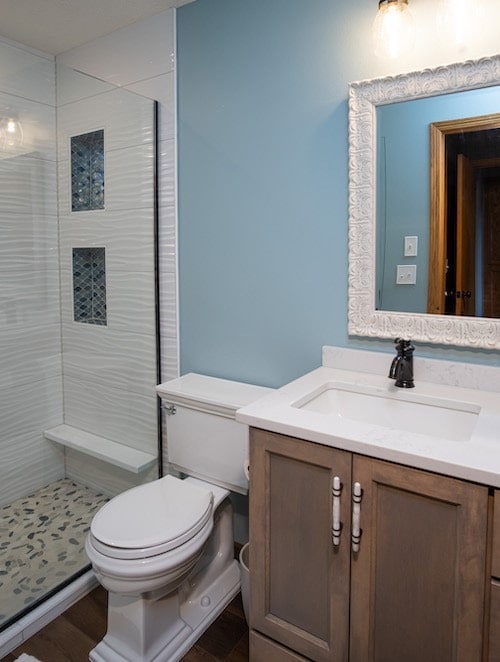 4. Embrace That Pop Of Color!
Make spring the season you select a bold color for your home – whether it is painting an entire room a brighter hue or having your cabinets refinished with an on-trend navy or forest green, this is the time to say yes to colors! Even a bathroom vanity in a bright shade can make a significant impact. The biggest thing to remember when it comes to applying color is the process. If your general contractor is not working with a coatings company that knows what they are doing, you could end up with brush marks, streaks, and uneven edges. These flaws show up more readily with a color – so make sure the contractor you are working with has a coatings team that is experienced in providing a smooth finish and clean lines.
5. Add A Concrete Coating!
Don't forget about your garage or driveway when planning your home remodel. With more time spent outdoors as the weather warms, make the garage a place you actually want to hang out in! And if you have little kids running around, keep in mind that a quality concrete coating is actually a safety benefit thanks to it slip-resistant surface. With so many design options to choose from, you can create a beautifully cohesive flow from inside to out. Your general contractor can help you find a coatings company that can transform your concrete surfaces – from the garage to the driveway to the patio – and assist in making those design decisions that make every inch of your home the place to be. Interested in learning more about concrete coatings? Take a look at our sister company – The Coatings Authority – and visit their website here!